Glycogent Exfoliation Accelerator
A unique glycolic and lactic acid complex that assists in the removal of dead cells for ultimate skin surface renewal. Provides gentle, yet effective exfoliation of dead skin cells helping to increase cell regeneration. Helps soothe and support skin. Antioxidants help prevent future damage. Also ideal for use anywhere on the body where exfoliation is needed.

Aknetrol Acne Spot Treatment
Maximum strength acne-fighting formula helps treat breakouts, control sebum and prevent future breakouts. Helps neutralize bacteria-causing acne/breakouts using effective Benzoyl Peroxide 10%. Removes impurities, clears clogged pores, reduces redness.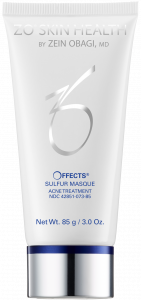 Offects Sulfur Masque Acne Treatment
A deep-pore, medicated cleansing masque designed for treating oily or acneic skin. Absorbs surface oils and helps reduce oiliness. Helps prevent clogged pores. Can be used as a spot treatment on blemishes.

Retamax Active Vitamin A Micro Emulsion
A lightweight, high potency retinol lotion that helps reverse the signs of skin aging. Helps reduce lines and wrinkles in the skin while supporting a more even skin tone. Provides antioxidant and anti-irritant properties. Helps skin renew itself.